Begin your new school year by incorporating the valuable strategies and suggestions found in these two straight-forward, user-friendly resources.
1) The First 10 Minutes: A Classroom Morning Routine that Reaches and Teaches the Whole Child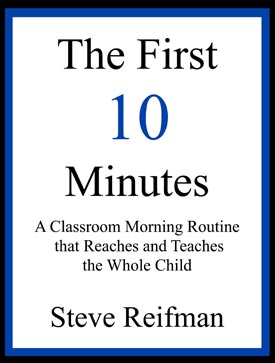 A consistent, effective morning routine sets the tone for the upcoming school day and prepares students for high quality learning. In this book Steve describes a three-part routine that reaches and teaches the whole child.
Part 1 introduces the morning check-in, an activity that addresses the affective domain by building a sense of inclusion and mutual caring, strengthening teamwork, increasing class bonding, and helping each child feel acknowledged and valued.
Part 2 features three types of class discussions that focus on moral and character development and emphasize strong work habits and social skills. The goals of these brief conversations are to inspire children to maximize their amazing potential, build a sense of purpose, and increase student motivation to learn and succeed.
Part 3 adds a physical component to this routine that both energizes and de-stresses children to help them achieve an ideal mindset for academic learning. After completing this warm-up routine, students will be calm, relaxed, focused, and confident.
(23 pages)
2) The First 30 Days: Start Your School Year With Four Priorities in Mind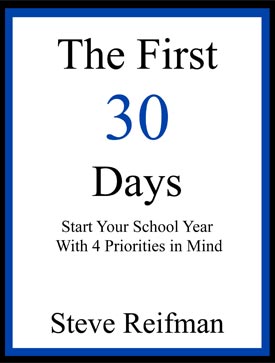 Giving the following priorities the time and emphasis they deserve in the beginning of each school year pays big dividends for you, your students, and their families. In this book Steve brings these priorities to life with a wide variety of activities, strategies, suggestions, and sample pages.

Establish procedures, routines, and expectations so students know how to function efficiently and effectively in your classroom. Keep this training period going until performing these routines and procedures becomes second nature for students. Generally, 4-6 weeks will be sufficient.
Build a cooperative classroom culture through icebreaking and team-building activities so students feel safe and comfortable and see one another as friends and assets, not rivals.
Establish a sense of purpose in your class so students understand why it is important to come to school each day and work hard. Children who understand the many purposes of their learning will behave better, work with greater motivation and enthusiasm, and find greater meaning in their work.
Communicate with your students' families about the new year. Build a sense of excitement, optimism, and possibility as you share your plans for the coming months. Be proactive. Doing so gives you the opportunity to package your ideas and articulate them in the best possible light. Proactivity increases your credibility, strengthens your voice, and reaffirms your position of leadership.
(40 pages)

Steve is hosting a give-away to contribute 5 copies of each book to Kleinspiration readers.
Thus, I will select 5 separate winners to WIN both books!

a Rafflecopter giveaway